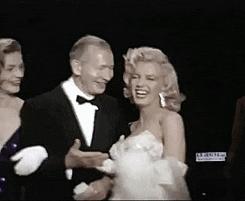 What happened to our society? Especially at Christmas time?
Who else remembers a time when November and December were full of social engagements and excuses to dress up? There once was a time that I looked forward to the annual company party, where everyone was expected to dress up, socialize, and participate in some good clean fun…until most everyone drank too much and had to be chauffeured home.
And what the hell is with not playing that wonderful song, "Baby, It's Cold Outside"? Give. Me. A. Break.
Maybe it's the new cultural trend of insta-worthy-over-sized sweaters and hands wrapped around steaming mugs of cocoa. Hell, it's a lot easier to pull off than heels, strapless dresses, and a clearly defined 'date'. I totally get that everyone has either become an empath or an introvert; a modern way of saying; I'm sensitive, so don't hold me to your cultural standard of politeness and respectful interaction….the penultimate of victim culture.
Just a tip – half of the fun was watching everyone interact. It was fun to play with our persona's of  sequined flirts with no other intention than to share a few laughs; to entertain and to be entertained by virtue of our very own selves.
I miss what I so fondly refer to as Gatsby-Socializing. When you were expected to flirt with everyone, the art of telling a joke was appreciated, and keeping up with current events wasn't quite enough. People actually had discussions intelligent enough to persuade, entertain and engage.
There was no distraction appropriate at the table. I mean really, cell phones at the table are akin to someone in the 80's taking out a handwritten letter, smoothing it out on their lap, lowering their reading specs, and totally disengaging with the people in front of them. Talk about a slap in the face of civilized behavior.
For a while I thought that the slow fade of high-end socializing was directly related to my age. I was wrong. It's the result of fear. Everyone's afraid that they're going to be fingered for being inappropriate, being blamed for the irresponsible behavior of another adult, and painted with the pariah brush of our I'm-not-responsible-for-my-own-behavior culture.
So get out your cocktail dresses and brush off your dyed satin shoes. Break out your costume jewelry, shake up a mean cocktail. Invite a wild mix of personalities over and watch the magic of real-live human interaction unfold all in the name of Christmas cheer. I'm dying for some superficial and super-fun festivities.