I woke up this morning to a plethora of "WELCOME OCTOBER" posts such as this gem.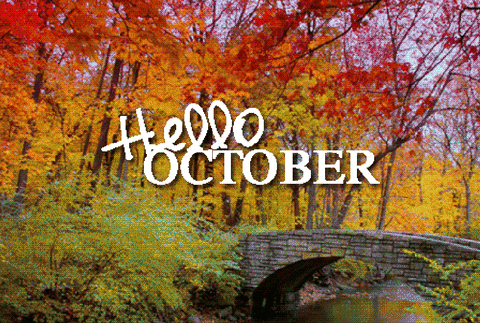 Thank God! Had so many people not posted pics of sweaters, fall leaves, and well-manicured hands wrapped around steaming mugs of pumpkin-spice flavoured everything, I may have been stuck in the dreaded September-Time-Warp!
Autumn has always been my favourite season. It's a do-over for me. I was a school supply nut, and loved the smell of fresh pencil crayons and the feel of a new pen. Ok, I was a book-nerd. I was also a little chunky, which meant that I could layer on a sweater and pants, and finally not feel naked.
Now that I'm into my 40's, chunky fall sweaters just make me look like an exceptionally well-fed homeless person. And all of those pumpkin spice lattes – yah, I love the half-sweet version, but I can't handle the sugar anymore (hence looking like a well-fed homeless person). Give me a strong Irish tea with some skim milk, and I'm  autumn AF.
( I pause now to put on the kettle…)
Autumn requires some serious planning  if you're going to create all of those Instagram-photo-worthy pics for family and friends. After all, isn't that what it's all about???
The reality of my fall season is getting back to work after a beautiful and romantic holiday, and getting to as many of my son's football games as I can. There's also Thanksgiving (two adults and 7 young adult children around the table-one vegetarian), and Hallowe'en to get ready for. Since I don't have to work this Hallowe'en, there shall be costumes and a dinner party, complete with a meat-wrapped-skull charcuterie board and brain-mold jelly dessert.
This all leaves (no pun intended) very little time for curling up with that over-sized mug of pumpkin spice goodness, frolicking on beautifully amber-and-red-leaved-lined trails and posing for that perfect shot with my pumpkin-spice beverage of the day.
At this stage what I need is a daily-high-fiber-digestive aid that comes in pumpkin spice version, and a sinewy house-lad who looks good in a cable-knit and knows how to brew a perfect pot of tea. Note to self: buy my honey a new cable knit and ask him to make my apres-dinner tea in his tighty-whities and the new sweater.
Hmmm…perhaps this could be a season of autumn romance after all – you wouldn't make me a cup of tea would you darling?